Products
Multifunction Meters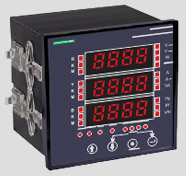 The Enersol Multifunction series power meters are easy-to-operate, compact in size, cost effective meters that offer the basic measurement capabilities required to monitor an electrical installation.
Characterized by their rugged construction, compact size, and low installation costs, these state-of-the-art multi-function meters are ideal for control panels, motor control centers and genset panels.
The Enersol Multifunction series power meter is available in five different versions to better fit specific applications:
Applications
Power monitoring operations.
Load studies and circuit optimisation.
Equipment monitoring and control.
Preventative maintenance.
Energy savings
- Measure efficiency, reveal opportunities and verify savings.
- Sub-bill tenants for energy costs.
- Allocate energy costs to departments or processes.
- Reduce peak demand surcharges.
- Reduce power factor penalties
- Leverage existing infrastructure capacity and avoid over-building.
Energy availability and reliability
- Verify the reliable operation of equipment.
- Improve response to power quality-related problems.
Main characteristics
Accurate metering
The meter conforms to accuracy class 1.0 / 0.5
Easy to read display
The bright, alphanumeric, 15mm high LED display provides 3 lines for measurement values with 4 digits per line. The display auto-scales for Kilo, Mega and Giga values. Auto scrolling mode allows for easy reading.
Quick and easy installation
Setup is done through the front panel keys.
Direct connection for metering voltage inputs up to 480 Vac L-L.
Colour - coded terminal board labeling
The colour - coded label on the terminal board helps ensure accurate wiring.
Secure settings
Safeguard access to setup parameters with unique password protection.
A keypad lock lets you display a user selected page by default.